Our logo and guidelines on how to use it.
Languages
In accordance with the Official Languages Act, there are two official versions of the Bank's identifier.
On our English website, English appears first and French first on our French website.
Colours
On our website, we use the logo in black against a solid light background.
It can also be used in our official teal colour on a solid white background or in white against a solid dark background.
Examples of proper colour usage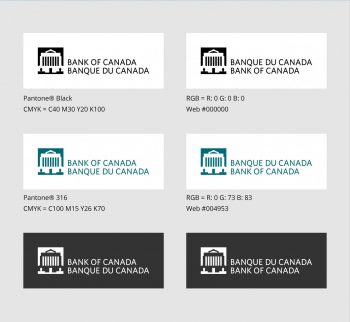 Clearance
A minimum clearance space surrounding the identifier must be respected. For instance, no other elements, either graphic or text, should appear within the perimeter of the clearance space.

Incorrect uses
The identifier should not be altered in any way, nor should it be exaggerated in size.
Examples of unacceptable alterations:
rotation
skew
over/under sizing
disproportionately resized (i.e., stretched)
colourizing
cropping
picture effects (for example, bevel/emboss, reflections, 3D)